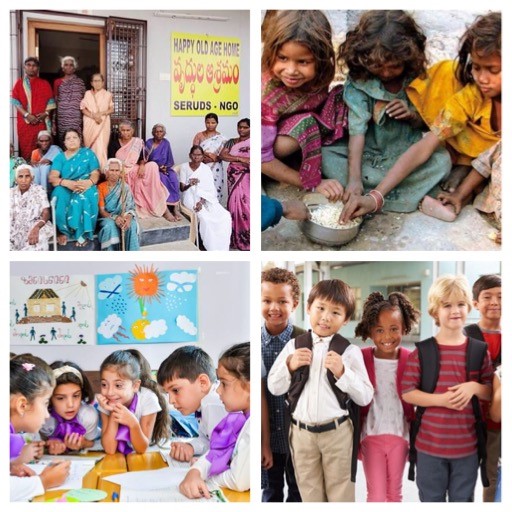 The Covid 19 Pandemic has been a real nightmare for each and everyone in the Universe…nobody is untouched by it. Never have we witnessed so much upheaval in our lives as in these trying times. Millions have lost their lives…millions have lost their jobs…and innumerable people face the fear of losing their jobs. The crisis is universal. Farmers face a problem in selling their produce as there is lack of transportation…daily wage workers are in a dilemma how to earn their daily bread…there is malnutrition and starvation…indeed a sorry plight.

When I drive thru the streets of Dubai, I see so many familiar shops…all shut…eating joints which were once bustling with activity are now shut down. There is a street in Karama which has all furniture stores…they sell durable and handmade reasonably priced furniture. Yesterday I got a shock when I saw one entire building which must be having at least 10 to 12 shops, all shut down…the street was dark and looked eerie and forlorn I felt so bad not to see the lights of those shops and the smiling faces of the salesmen luring everyone to buy their furniture. I can imagine how many must have lost their jobs…and must be facing trying times now…really very depressing. I personally know so many people who are going through a rough time as they have lost their job and wondering if they will even get another even if it means less pay. We can only pray for this to end as soon as possible.

Besides loss of income people are also going through mental health problems…as this grim environment has instilled so many fears in so many people. People are taking psychiatric help and counselling…taking anti-depressants. Depression is not easy to face and many are more vulnerable to it. We can only just pray for all of them.

I have often heard many adults grumbling…complaining, whining and generally feeling a sense of dissatisfaction with their lives now. Well, I can say for myself also that sometimes I feel low and depressed because of lack of contact with near and dear ones, friends, etc. We humans are all social animals…we love to interact with people…be surrounded by our loved ones and peers…which unfortunately we are bereft of it all now. We do see our loved ones through Zoom videocalls, etc., but the human touch is missing…and that brings sadness.

But we know we have to take all this in our stride. But who is the most affected by this. They are two different categories of people. The first are the old disabled adults who are left in Ashrams or Old Age Homes for some reason or the other. I remember recently when I was in Chennai, I visited one such Ashram and spoke to some ladies living there. Some were happy and had accepted their situation with a smile…even making excuses for why their children were forced to leave them there…but there was one lady who had tears in her eyes…she told me that her children sent money dutifully for her upkeep there but rarely visited her. She missed that…really one felt so sorry for her…when during good times the children rarely visited them…now with this pandemic they all are just left on their own…and so they think of each other as family. But I am sure none of them must be complaining…as they have just accepted their situation.

Then come children…they are like flowers…just like flowers blossom with care…the same goes with children…they need a healthy environment to thrive and be happy. Unfortunately, this pandemic has really made them face the grim realities of life at a tender…impressionable age. The schools are shut…classrooms are empty. The playgrounds and swings all look lost and forlorn…waiting for the screams…the laughter…the giggling…the non-stop chatter of the children. Teachers go to empty classrooms and teach online…I am sure they must be most affected not seeing the smiling faces of the inquisitive…curious and smiling faces of the children. Children don't attend school…intermingle with their friends…talk non-stop in their school bus or share their breakfast and lunch-boxes…go for play dates…sleep overs. They are deprived of all of this, which we have always taken for granted. Now they have play dates and sleep overs on Zoom, but they are still happy…contented. We adults need to learn a lesson from them. Hope they can blot out these unpleasant memories forever and only remember the good times.

I remember the saying "Do not dwell in the past, do not dream of the future, concentrate the mind on the present moment." Well, this saying always appealed to me, but today I feel that the present is a harsh reality…the future uncertain…but our past memories of our good old times are the most pleasant things to remember now…somehow one always remembers the good times and we blot out the trying times that we all must have faced in the past. And hopefully in future our this present also will be a closed chapter in our memory box.

Now the vaccine is being given to us…everyone should take it as soon as possible…we in Dubai have already taken our two doses and feel a sense of security…hope Mumbai also starts giving them to the general public soon, so that all our loved ones are safe and we can soon meet them. We meanwhile have to learn acceptance of the situation we are faced with and only hope that we have learnt our lesson. We now know that in future we have to take care of our environment and not tamper with nature…we should also not take our freedom for granted…we have now realised what it is to be confined within the four walls of our homes…sometimes I wonder how our freedom fighters sacrificed their all for the people and were confined to jails…my salute to them…Mahatma Gandhi…Bhagat Singh…Nelson Mandela…and so many others. Really when we think of them our home should not seem like a jail…but our safe haven. 😊

So stay safe and just be happy…the worst has passed…we are soon going to enter into a new normal…hopefully very soon.