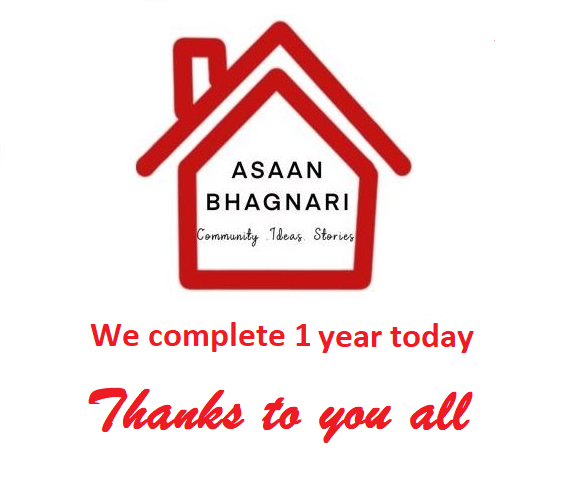 Just over a year ago an idea was conceived by Shakuntala Jodhun, who expressed a strong desire to have a Bhagnari Newsletter. The thought gave birth to ebhagnaris.in. Our hustling and bustling baby is one year today. The success of this website is mainly due to the viewership it attracts from Bhagnari Community. A big thank you to all the community members – a year ago when the site was launched on 26th January, we could not have imagined the following statistics:
– 50 Articles
– 25 Video uploads
– 40 community members contributed the above articles and videos
– 16000 views on the website
These articles and videos are linked to Bhagnari Community group on Facebook, where they have already garnered:
– 1500+ Comments
– 2500+ Likes
All the above would not have been possible without the team who quietly work in the background to give you this robust website and are always on the look-out for informative and exciting content:
Aditi Achpalia, Amrita Dudeja, Amrita Mehta, Anupama Lulla, Bhumika Nasta, Jayesh Kataria, Karishma Talreja Budhdev, Lokesh Budhrani, Ramesh Poplay, Saahil Mehta, Siddharth Kataria, Trisha Mehta.
The website team were supported with contributions from the following, who are being awarded a Certificate of Appreciation form the President of the community Shri Lachmandas Gehi:
Amrit Mehta & Family, Anita Mehta, Anita Mehta & Family, Bharti Bhagnari, Charanjeet Chanderpal Gehi, Deepa (Laji) Bhagnari, Dhairya Gehani, Geeta Kanar, Hiren Wadhare, Lachmandas Gehi, Mansha Mehta, Mohini Gehani & Family, Neha Alreja, Nikhil Nasta, Niranjan Gehani & Family, Prakash Gehani, Rishika Nasta, Rohit Digra, Sanjay Dhingra, Shivani Kataria, Sneh Gehi, Subash Kataria, Vidhi Kamra, Vinod Gehi.
Mitri – this new initiative was added recently, once again at the request of Shakuntala. It aims to bring Bhagnari couples together into a blissful matrimony. The initiative is fronted by Shakuntala Jodhun, Manju Dudeja and Mansha Mehta. This team's efforts are also being recognised with a Certificate of Appreciation.
Bhagnari Community's YouTube channel has become a popular repository for videos made by the members of the community. We thank Amrita Mehta for initiating this idea and giving it shape.
Friends, all the above would not have been possible without financial support from Jayesh Kataria, who pays the annual charges to run the website. A huge applause for him!!
Just in case you are not aware, it is important to let you know that besides the regular new posts, the website has several other interesting pages:
– History of community before the partition https://ebhagnaris.in/wp-content/uploads/2020/01/BHAGNARIS-History-PDF-1.pdf
– History of the community after the partition https://ebhagnaris.in/wp-content/uploads/2020/01/History-of-panchayat-immediately-after-partition-1.pdf
– From Bhagnari Kitchen https://ebhagnaris.in/wp-content/uploads/2020/01/From-Bhagnari-Kitchen.compressed.pdf
– Bhagnari Dictionary https://ebhagnaris.in/the-bhagnari-dictionary/
– List of blood donors https://ebhagnaris.in/list-of-blood-donors/
– Panchayat registration form https://ebhagnaris.in/membership-registration/
– Mitri Registration form https://ebhagnaris.in/the-bhagnari-mitri/
Friends, let us not rest on our past laurels. We must strive to double the statistics next year!!