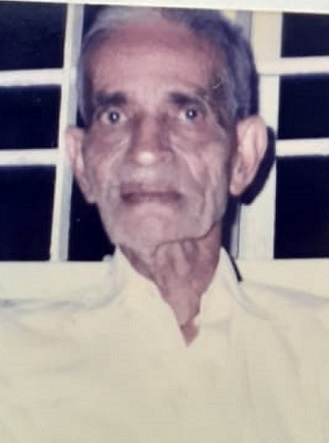 Shri Sobhraj was son of Tirathdas Gehi and had seven brothers and one sister. They all lived in a large house in Bhagnari Pada in Karachi.
Karachi
Collective leadership – the jargon is a creation of the corporate world to create space for a group of people to work together towards a shared goal.
Yet, it's a man amongst men who can alone weave the success.
The major achievements are made single-handedly, for that we had the real leader who shared the success with his men Friday.
These bedrocks are hidden down under. We see the glittering edifice because of them. Yes, the bedrock in the case of our community, sharing the success of Late Shri Takandas H Kataria was Late Shri Sobhraj T Gehi. He shared a telepathic bond with Mukhi Saheb; there was no other who could understand the next in the mind of his leader but him.
Such people's actions during the peaceful times are never noticed and for the longest time they are not realized by us.
Shri Sobhraj T. Gehi was with Mukhi Saheb as his dream realizer since the earliest days of Bhagnari Panchayat, 1930 onwards. He was the Honorary Joint Secretary, and worked closely with Late Shri Takandas H Kataria, the President of the Bhagnari Panchayat.
The tenacity, hard work and the results can only be achieved by a super focused, no nonsense man in the circumstances which our community faced during the days of post partition in the year 1948.
It would be interesting to mention that Bhagnaris were optimistic of remaining in Karachi for life; it was only when the situation worsened during the end of 1947 that a call had to be taken to move out of the newly formed Pakistan.
The community moved from Karachi to Bombay in 1948 and not in 1947 as many of us perceive.
In the midst of destructive and frenzied sentiments, few saviors stood firm to get the community members safely to Bombay by sea.
It was their sheer grit and determination that made this possible. What a struggle it must have been!
One has to pause here to imagine that how all the formalities with two warring Governments must have been done. How the peoples count and transfer was managed and after landing in Bombay how all of them would have come together once again.
Yes, all paper-work and liaisoning with the government authorities was done by Late Shri Sobhraj T Gehi. He was at the helm of affairs, alongwith the President, Late Shri Takandas H Kataria. He played a pivotal role at that time. He was also instrumental in disposing off Panchayat properties in Karachi, alongside the President, who worked tirelessly to complete the matters before migration.
Our family would like to thank Shri Ramesh Poplay for reproducing the documents on the community website ebhagnaris.in (Letters from Karachi) and Shri Prakash Gehani for carefully preserving the file that was handed over to him by our grandfather, Shri Sobhraj T Gehi.
We remember him showing us the file with copies of the documents and the telegram that was sent to the then Home Minister and the Prime Minister for rescuing Bhagnaris from the then prevailing destructive atmosphere in Karachi.
(Publication of Letters from Karachi)
Bombay
After partition, millions of families were landless and homeless. A salute to the spirit of the older generation, who endured those difficult times with tremendous fortitude, settled in a new land and rebuild their lives with their resilience, hardwork and integrity.
After coming to Bombay, Baba (as he was addressed by us) lived with his family (his wife, Krishna and three children) in a railway owned chawl at Khar (East), adjoining the tracks near the railway station.
His daughter, Nirmala recalls that it was a small one room kitchen tenement. The distinct memory she has is of water being delivered to each house in the baithi chawl, by a porter who carried a long stick on his shoulder, and to each side of the stick were water cans. It must have been a very basic settlement with basic facilities. At that time, his elder son, Jethanand was 15 years old, his younger son, Sunder was 10 years old and his daughterNirmala was 5 years of age.
In Bombay, Baba worked as a typist in a few places; that was his humble beginning in a strange land. He multi tasked, doubling up as an administrative and communications person. His skills were valued since he had good organizational ability, a good command over English and a flair for writing. Relocating to a new place, must have been very challenging. We do not know much about the process, but believe that a strong community network, must have been a catalyst, in enabling each other to set up, and move on.
He was recognized for his expertise; his advice and help were sought after by members of the community. He was generous with sharing ideas, drafting official letters and lending such support to anyone who approached him.
As he worked, he also dedicated a lot of time to Panchayat work. These were formative years, when the idea of a place for Bhagnaris in Bombay was being envisaged by Mukhi Saheb. Perhaps, at that time Panchayat members met on a fixed day, at a fixed place, since everyone was scattered in the city. That is how the community may have held itself together and kept the activities going, till Kataria Colony was built. After numerous discussions and debates in Panchayat meetings, Shri Sobhraj T Gehi, once he resolved, executed each project with utmost efficiency.
Post migration, after 3 or 4 years of staying at Khar (East), the family moved to Gehi Mansion at Mahim, and later to Kataria Colony, when 'A' Building was constructed.
Starting out from Khar (East) and moving to Kataria colony, was like a dream come true.
Kataria Colony was the dream, that the leaders had worked towards relentlessly, since migration in 1948 and after 10 years, the dream was translated to reality. Kataria Colony was not just a physical space, it held deep sentiments of the members' longing to restore the feeling of solidarity and a continuity of the sense of identity and belonging, that all had experienced before partition. The community leaders had held together in the face of all odds, worked passionately, to realize the cherished dream of a Bhagnari Pada in Mumbai; reminiscent of their lost homeland.
Baba revered Mukhi Saheb, like all others did. They shared a very good rapport. Between them, it was a relation of mutual trust and respect.
When 'A' building was in the process of being constructed, the members were contemplating a name for the society. He strongly advocated then that the colony should be named after the founder, Shri Takandas H Kataria. The members unanimously agreed; hence we have 'Kataria Colony'.
After moving to Kataria Colony, he rented a small shop at Chakla street, the hosiery market in Mumbai. At that time, he was engaged in doing correspondence work for many reputed firms, situated in the hosiery market. His sons, started trading in hosiery goods in the shop, and later, they were successful in getting agencies from reputed hosiery manufacturers in Salem, Tamil Nadu.
After few years, Baba purchased a shop from Shri Gobindram H Chhada. While his sons, undertook the responsibility of the hosiery shop, Baba focused on the communications aspect, correspondence with the manufacturers in South India, which had grown beyond Salem and moved to Tirupur. With his guidance and blessings, his sons took charge, and after a few years of being active in the shop, Baba withdrew from the shop, but continued working at home, overseeing the agencies work, the communications, banking and investments work.
Later, he continued his commitment as the Honorary Joint Secretary with Late Shri Harkishindas D Gehani, who became President of Bhagnari Panchayat after Shri Takandas H Kataria.
He spent a lot of time reading philosophical books, particularly pertaining to Bhagavad Gita and other Hindu Scriptures. He was very active in organising the week-long Gita Jayanti celebrations that took place at Kataria Colony for many years.
He was a man of integrity, a disciplinarian, and a true karma yogi. He would wake up before dawn, and in his deep voice do the Omkar and mantra chanting. He practiced Yogasana and also did Shirshasana (Headstand Yoga Pose).
His simple and disciplined lifestyle is the reason why he was so fit, until the last. He was alert and active until a few weeks before he passed away. He continued to have a sharp memory.
Anyone who knew him would tell, that he was so precise, so meticulous, that he left no scope for any non-clarity whatsoever. And he was forthright; he always voiced his opinion in Panchayat and Society meetings loud and clear.
Baba breathed his last on 31st March 1996, when he was 92 years, leaving behind fond memories, much love and a family bond.
We are filled with gratitude to have him as a member of the Bhagnari Community and have a lot to learn from his life.
(The family and close associates of Late Shri Sobhraj T Gehi have contributed towards this write-up)