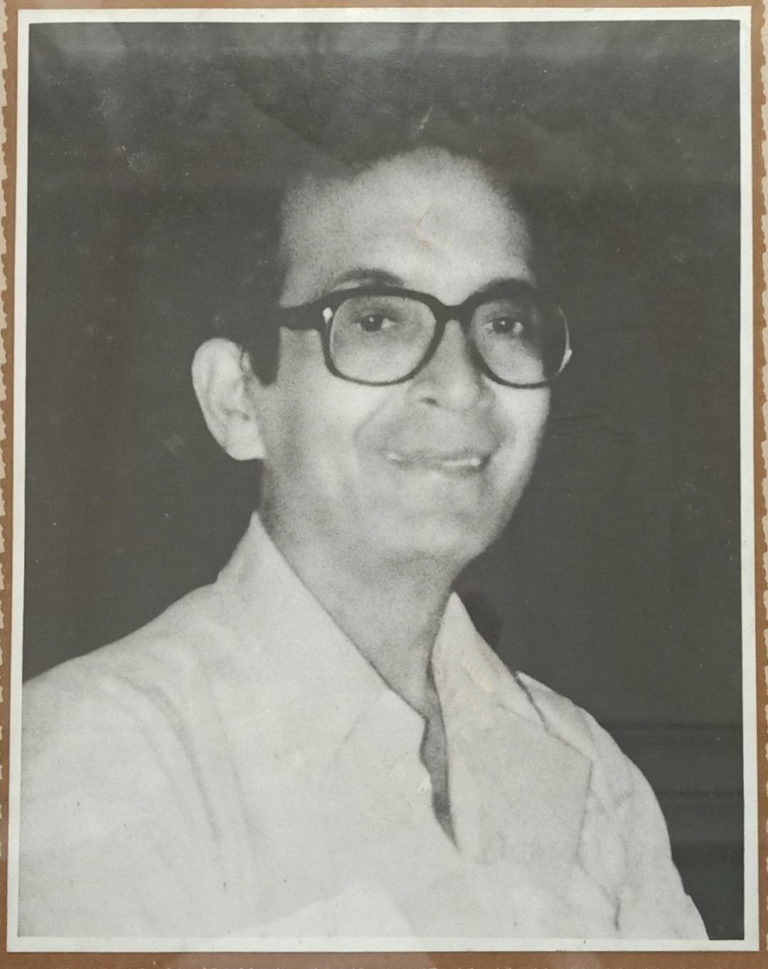 Yes, my father was a Popley with 'e', though I became Poplay with 'a', due to mistake in my school leaving certificate, which I realised only when I got my passport in 1972.
There has been a welcome revival of our Bhagnari boli and I feel it has come at the right time. The emphasis so far has been to assimilate all Bhagnaris spread across the globe, under one roof – a huge roof enabled by the IT advancements – Facebook, Whatsapp groups, Bhagnari Dictionary, Excel database, re-launched registrations, our website, email groups and several new and forthcoming initiatives that are in pipeline to get all Bhagnaris under one umbrella. And to top it, all this is being led by a group of youngsters, who are proud to contribute their time.
Our elders though had tended to be associated with Sindhi community, right from the time they came to Karachi. They merged themselves with the group named Old Town, mainly comprising of Bhagnari, Nasarpuri, Chapru, Serai, Saata, Khatri and Wawa. The children studied in Sindhi medium schools and that too in Arabic script. My father carried this attachment with him to the extent that even in 1958 when I was to be admitted to a school and in 1964 when my sister Neena was to start schooling, we were admitted to Sindhi schools with Arabic script. This, at a time when majority of my friends went to English medium schools. In the end though I do not find myself anywhere behind those who studied in English medium. A lesson that my father taught me to strengthen my English, was one that he had received from Late Shri Hiranand Gehi. He would pick up the first page of the daily English newspaper, underline all those words, whose meaning he did not know, get their meaning from dictionary, come back to the newspaper and re-read these sentences. This way he ensured that the meaning of the word was never lost on him. This exercise held me in good stead during my school days.
My father used to make it a point to attend the annual Sindhi Samelans, which were held all over India. Over the years, differences started simmering between the supporters of Arabic script and Devnagri script. By this time, several Sindhi schools had introduced Devnagri script divisions too. Being the editor of Hindustan Sindhi Daily, my father, supported Arabic script. But the rift had deepened and it finally led to fights at one of the samelan, leading to a split between the two rival groups. It also led to the supporters of Devnagri script, starting their own newspaper, which was named Sindhudhara. During this period prominent Sindhi writers in and around Mahim and Mumbai too started taking a stand on this matter, though I don't recall which writer supported which script. I do, however, remember some of the writers with whom my father had close association – Moti Prakash, Sundri Uttamchandani, A J Uttam, Popti Hiranandani, Kirat Babani, Mohan Gehani, to name a few.
As Sindhi philanthropists had opened colleges in Mumbai, which continue to function till today, they started offering seats under Sindhi quota. Even now, Panchayat issues certificates to Bhagnari students who wish to apply for seats under Sindhi quota in these colleges.
In conclusion on this subject, before I take a further trip down the memory lane, it must be said that the current push to own up Bhagnari boli, must continue. What I have said above, was 'then' and our 'past'.
My father had maintained and adopted socialist ideas all through his studies and life. He was a staunch supporter of Karl Max's theory of economics and used to openly support it even in the college lectures. It's a wonder how during British rule, the students would stage walk-out whenever the professor propagated capitalist theories. During the second world war, when the Britishers banned all news articles from abroad, a group which included my father, would distribute leaflets covering news from across the borders. For this they were punished several times. I was recently told by our Mukhi Shri Lachmandas Gehi that in Karachi my father was called Daily Gazette Popley due to his association with this paper. He also used to teach English and Maths to Bhagnari students during night, free of charge.
For his LLB studies he came down to Bombay, though he did not complete it due to the partition of the country. The college where he studied used to arrange occasional visits to the court, so that the students could get first-hand knowledge of the proceedings. My father used to cite the cases fought by Mohd Ali Jinnah, who was considered a prominent lawyer in Bombay. His reputation was that he would study the case so well that he would be in a position to sum-up the case with all its pros and cons in his first briefing and leave no quarters for the opposition lawyer.
His socialist ideology brought him close to personalities like A K Hangal, Balraj Sahni, S A Dange. According to him, even Raj Kapoor was a part of this group until he became a successful film-maker. RK's socialist ideas are clearly evident in most of the movies made by him. My father possessed several trunk-full of books written by and on Karl Marx, Lenin, Stalin, etc. He was warned to get rid of them, as the government imposed a clamp-down on such material during the war with China in 1962. I was just 10 and remember having gone and hidden the books on terrace. I too acquired some of his socialist leanings, as I led a trade union of 500 India-wide employees of Blaze Advertising Pvt Ltd, where I worked during 1969/73. It was quite a task dealing with President of All India Trade Union Congress, H N Trivedi who was a very tricky character. We had to leave him and join a trade union leader named Khanolkar, who had defended Datta Samant in a murder case. We finally realised that an out of court settlement would be the best way out to settle the fight between the management and the workers.
My father had worked in Blaze, when I was about to be born, however, as they were not doing well, he had left them and started a film publication called The Magazine. It lasted till 1954 and could not continue in the face of competition from Filmfare. I got my job with Blaze as my father had kept in touch with the owners Mohan Bijlani and Freni Variava. In fact, I recall that when I joined them, I was still 17 and the minimum age required to join a private limited company was 18 during those days. The HR manager 'increased' my age by a year.
Times were tough for us then. My mother, Daya, was one of the few Bhagnari ladies who had taken up a job. She worked as a salesperson in a saree shop, Apsara, in Prathna Samaj. Some years earlier we had been granted a personal loan of Rs. 5,000 (a princely sum at that time), by Late Mukhi Shri Takandas Kataria to enable us to take up a flat in Kataria Colony. He was very fond of my Aayee, Sadoribhai. I recall that our society's loan was paid off only just before I went to Dubai in 1973. My higher secondary education in 1968 was completed with dreams of joining Science and becoming a Civil Engineer. I passed the Elementary and Intermediate Drawing grade exams of Maharashtra Board, in preparation for this dream. However, on the day when my SSC results came, these dreams were shattered. To support the family, it was necessary to earn and learn. During those days one could do that only in Arts and Commerce streams, as these had morning classes. During the first year of the college I worked with my father, getting exposure to the world of advertising and meeting people like Amin Sayani and R K Laxman. Our Colaba depot of Times of India's classified advertisements was in Cecil Court, where Amin Sayani worked in the office of Radio Ceylon. During our visits to Times of India at VT, we used to meet R K Laxman very often and get to see the cartoon that he was going to publish in the next day's newspaper.     
My F.Y. Com went off very well, as I was still working with my father. From Inter Commerce (as it used to be known then), I joined Blaze Advertising. I found the experience of studying and working very tough and fared badly in the terminal exams. Just before Prelims, I told my father that I wanted to leave studies and go away to Dubai. He first agreed, but after a week or so he told me to go back to the college and that he had spoken to the head clerk Sadarangani to let me appear in the final exams, even though I had failed in 3 subjects in Prelims. With Sadarangani's influence I was given permission to appear in the final Inter Commerce exams and barely managed to passed with 37% marks. Junior B. Com and final B. Com did not pose much problem. In fact, my Dubai visa came on the day when I got my result of post-graduation in Marketing and Advertising. Till today, I thank my father for the day when he asked me to go back to my studies. During my job in Dubai, I undertook a lot of recruitment of programmers for my department. For recruiting programmers to handle the Y2K crisis during 1997/99, there used to be days, when I would go through 50+ job applications in a day. Every time I would discard an applicant for not being a technical post-graduate, I would thank my father for ensuring that I did not remain an under-graduate.
My father was a good sports person and used to represent his teams in Cricket and Table Tennis. He kept doing Yoga, just until a few months before he died. For a brief period, he was also in the Youth Committee of the Panchayat. His death came as a result of brain tumour. He spent his last days at Shanti Avedna Sadan, where only terminally ill patients are admitted. We still visit this place, which is located near Mount Mary Church, Bandra. It's an oasis of tranquility in Mumbai.
16th July is his 31st death anniversary. Om Shanti, Daddy. Thank you for making me, what I am today.