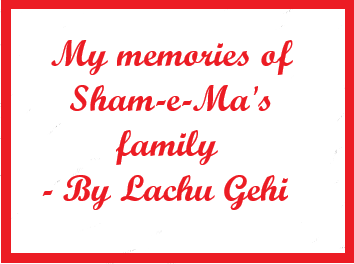 We Gehi's are known to be very honest in our work and are also known for discipline.
At the time of partition, I was 12 years old and I have very good memory from when I was 2½ years old.
A few days back when I went into past memory before partition, one Gehi family came to my mind. (Two years back I had written an article about my father and that was highly appreciated.) Known as 'Shamema Family', she had created such a record, that it still remains unbroken – giving birth to 8 boys and 1 girl!!
Almost all the boys became technocrats without going to engineering college. I will begin first with Shamdas. I had not seen him, but as a child became close to his son Menghraj, who was in Royal Air Force during British government time. Then he joined BOAC, then British Airways. Lastly, he was invited by Air India when they introduced first Boeing 707. He travelled in the first Jumbo Jet flight Emperor Ashoka or perhaps Emperor Akbar, from Seattle to Bombay. His brother was an expert radio mechanic and agent for Bush Radio. His brother Dharamdas was also with him. Menghraj's son Kishin became a doctor. His daughter Saroj too became an eminent doctor at Malad. His son Mohan, whom I met on my visits to USA, was an officer with Johnson & Johnson.
Now I come to Shri Gordhandas, father of Badal. I don't remember what he was doing, but remember that his family was staying in his building Gehi Mansion at Mahim. His son Badal had a provisions shop.
Now I come to Sobhraj. He served Bhagnari Panchayat after Dr Bashoomal Gehi retired, many years under the presidentship of Shri Takandas Kataria. His speciality was accounts. My father always took advise from him in the matter of accounts. He became a businessman and started a shop in the name of his elder son Jethanand & Co.
My brother Ramchand was very close to Deepchand, Kotumal and Mengraj Shamdas. Deepchand was another technocrat in electronic matters. In Karachi too he had a shop. He always had a smile on his face. In Bombay he had a shop in Lohar Chawl, well known for electric wires. His son became associated with Mittal Builders. His workshop at Sakinaka was famous with many cloth producing mills in that area. Now his sons are carrying on his tradition.
Kotumal was a person with great personality. I remember that he started his shop at Gehi Mansion. In Karachi along with Deepchand, he used to visit our garden with my brother Ramchand. It was a shocking news for whole Bhagnari community when he left this unholy world at a very young age. Now his sons Ashok and Suresh are in technical line of computers.
Gopichand was also a great technocrat – a watch repairer. He had shop at Tram Patta in Karachi. He was well known for his watch repairing skills. In Bombay he had shop behind Kataria's optical shop. His son also became expert in this line. I then came to know that his son opened a shop in Assam.
Hiranand was known as Hira Pehalwan. As a child I once had an opportunity to see him wrestle with another Bhagnari, Gopaldas Nanumal Jham and doing dand-baithak at our Shiv mandir in Karachi, which had some place for wrestling. That portion was filled with red soil. Hiranand's other speciality was writing letters. My father always called him when he wanted some letter to be written to government department. As a child he suggested to me the method of learning English language. His son Lal went to USA after a stint in Kuwait.
Hemandas – I don't have any knowledge about what he was doing in Karachi. In Bombay his eldest son was appointed by my father to give tuitions. At that time, he became very famous as a teacher. His brother Sugnomal whose nickname was Chichi joined Bombay Police, from where he retired as Deputy Commissioner. His other brother was Lachu, who was my classmate. Lachu was famous in my class for his handwriting. If you look at a fair copy of his writing, it looked like a page printed in a printing press. He also joined Bombay Police. Once I asked him, which department he was working in. He said "I am a writer."
Sister Bhagwanti had two sons, who were both technocrats. Gobind first worked with Kotumal and then with the help of Parsram Makar he joined BEST. His brother Hari was also an electric contractor.
In short, this family produced top class technocrats. I have not used the prefix of Late before any name as I find them to be Legends.