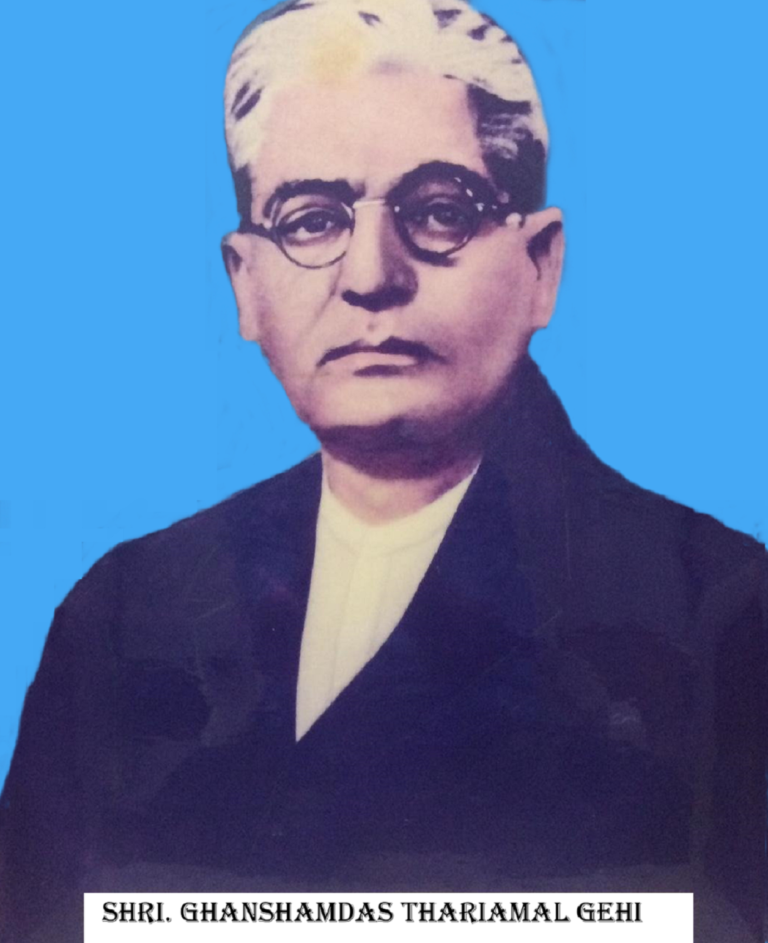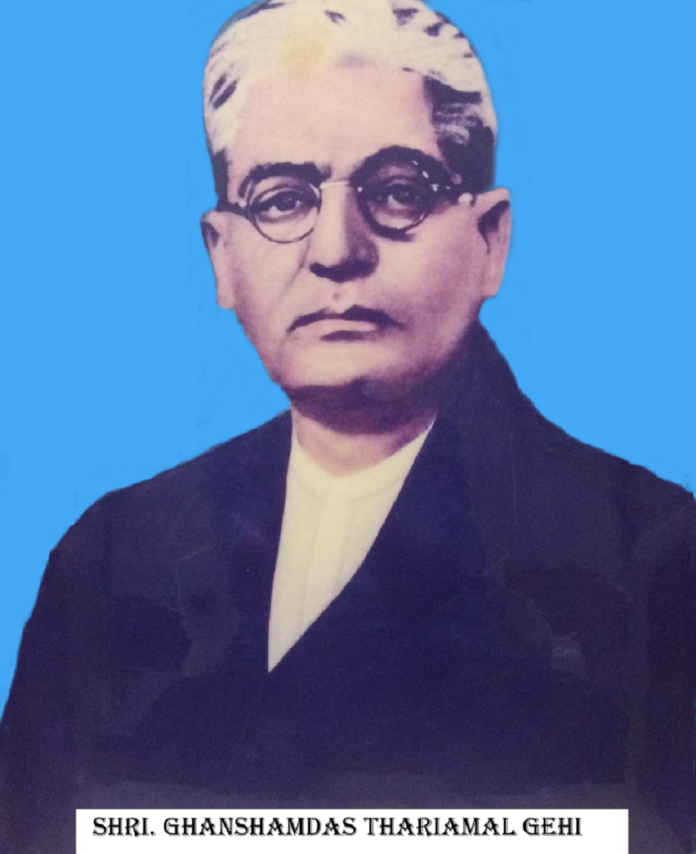 Written by Lachmandas Gehi
Recently Subash Kataria, grandson of Mukhi Takandas Kataria, posted an autobiography, hand written by the great man himself. Subash expressed his desire for other members of the community to share inspiring stories of their elders. I have therefore ventured to write my father Shri Ghanshamdas Thariamal Gehi's story, which I hope inspires others to share their stories.
My father was born in Hyderabad, Sind in 1889. As his 10th child, I have been quite close to him and have many memories of him, which he had told me. He was always interested in getting into new industrial products and in agriculture. He had a fruit and vegetable garden, which he jointly owned with his brother Rijumal. The garden's name was Ghandumal's Bagicha.
His first industrial enterprise was Jungshai Glass Work, which he started before the 1st World War, in partnership with a famous Congress worker Narsinglal Bhatia. They used German technology. After the war, the company closed down due to economic reasons.
After that he started Master Sodawater Factory with his friend Kundanmal Gidwani. It was named after my uncle who was senior to my father and was called Master. In those days there was a famous sodawater factory called Hassanali Sodawater Factory. It was as famous as Roger's of Bombay. As many Bhagnaris were in the business of liquor and having bars, Hassanali had less capacity to supply sodawater to bars and desi daru shops. So my father started a sodawater factory. The challenge came from Hassanali as he used to produce a much loved drink like Limca. So my father went into collaboration with a British firm, who were selling Vimto. Its syrup ingredients were supplied by the British firm. Vimto became a famous drink, same as we have Coca Cola now. During the 2nd World War the supply dwindled, so my father started making the syrup in Karachi. He even got the labels printed as the British firm allowed him to do so, in order to keep Vimto's name alive.
Another enterprise that my father started was London Paris Perfumery Company. He also used to supply toiletries and other materials to the army.
Though technically not qualified, he had a library at home with more than 2000 technical and non-technical books. These books were managed by my sister Ganga. Few of his technical books were brought to India. One book I used to study was a set of 5 volumes called Fortune in Formulas. He disliked the phrase "Cannot be done or impossible". If somebody has produced a toothpaste, it should not be impossible for us.
Once as a child he took me to Goda Gadi (horse carriage) maker, as he wanted to have one. The makers name was Kasim Memon. When my father asked him to make one, he said it will be available after 3 months, as he was producing one carriage per month and he was booked for 3 months. He told him, "Kasu if I open workshop, I will produce one carriage in one week." Kasu laughed and told my father "Seth I will pass on orders to you."
Within one week he started workshop to manufacture horse driven carriage. Production started after three months as it was totally mechanised by importing the complete wood cutting profile and cutting machines. He started producing one carriage per week and they were sold in many Sind cities. Then came 2nd World War and petrol became available only on ration – about 2 or 3 gallons (10 to 15 litres) per month. Many people started selling their cars. My father would buy cars, remove the engines, put the horse in front and make it like a Goda Gadi. It was less laborious for the horse as cars were already fitted with tyres and ball bearings. He fitted some lamps with bulbs as dynamo was fitted with batteries and made them practical.
Now I will talk about his research work in agriculture. For your information, in India the grapes were first introduced in Karachi. The saplings were brought from France by my grandfather and he was given the contract to grow grapes in Karachi. The garden's name was Gandhi Garden, which was given to my grandfather on rent. My father's own bagicha was called Gandumal Garden, which he jointly owned with his brother Rijumal. He turned it into a well-designed garden, which was a great task. To supply water to a 100 acres garden, he built a water tank which was also used as a swimming pool, much above the ground level, so the flow of water reached till the end of the garden. In 1944 he built another well to get more water for the garden. He was also an expert in grafting. He grafted grapes and rose plants, which resulted in sweet grapes with aroma of rose. It was known as Anabshahi and sold to the Governor's house, Collector's office, Commissioner's office as well as in the market. The fruit and vegetable from Gandumal Garden were famous in the market.
He once created sweet and sour mulberries, for which he grafted green sweet mulberries with red sour (khati) mulberries. Imagine the outcome, when the trees grew after 5 years, with half of the mulberries green sweet and half of the mulberries sour. I don't think there was any Bhagnari who had not visited our garden. So many ill persons would stay at our garden and get well. Advocate Nagrani was my father's close friend. Once his brother became critically ill. He stayed at our garden for some time and became well. This surprised his doctors also. My uncle Rijumal was connected with Karachi Club. I don't remember if he was President or Secretary there, but whenever MCC cricket team were in Karachi, he would entertain them at the garden. On one such occasion I was with my family there and I remember very well, because first time in my life I tasted chutney sandwich, as they were prepared for the team.
The picture that you all see in Panchayat Hall (posted with this article) was taken after he won a court case. Though he was not a qualified advocate, he had requested the judge to that he could fight the case himself. He received good help from his friend Advocate Nagrani. For this case he had to stich a white shirt with collar and a black coat.
My father remained in Pakistan with my brother Ramchand and started manufacturing foreign made liqueurs in partnership with one Parsi namely Nasavanji Kalyaniwalla. They started manufacturing whiskey, brandy, gin and rum. My brother Ramchand was in Pakistan till 1953. He came to India after we were quite established in manufacturing in Bombay. When he arrived here, my father started another factory of food essences and food colours under the name of "Golden Sun Manufacturing Company" in the year 1965. We were then having three companies, with his blessings.
In Bombay he was given a leather tannery by the government in partnership with a Sindhi person. As Mukhi Takandas Kataria was close to my father, he once told him, "Don't go into this business as you will be dealing with the skin of cows and other animals." He immediately shifted to the manufacturing of pigment colour for leather at Dharavi. Then he was allotted 800 sq ft factory at Mazgaon and when I joined the factory in 1957, he wanted to add one more item, boot polish. Till then he was into manufacturing of cosmetics for footwear industries which was substitute for imported material. Some items were solely produced by us. Even after I have closed down, some items in our brands are still manufactured by my friend's son. So our brand which my father had, is still alive.
I have a wonderful memory related to manufacturing of boot polish. It was the year before he left this world he said, "there is 100 crore population of India and if you sold 1 lakh tins per month and make 50 paisa per tin, you will earn Rs. 50,000 per month. His vision was right. We concentrated on selling to central government, army, navy and state government and we sold lakhs of tins by supplying them. In the Department of Director General of Supply and Disposal, my nephew Chandu played a great part of procuring their orders.
My father did one more great act, for which the Panchayat honoured him by placing his photograph in Panchayat Hall. It so happened that in one of the Panchayat meetings, Mukhi Takandas Kataria resigned and left the Panchayat Hall (in A Building) due to a disagreement. The Managing Committee appointed my father as an Acting President and requested him to go to Mukhi Takandas Kataria and persuade him to come back to the managing committee. This was done due to the fact that they knew that my father had good rapport with the President. My father went to him and on his persuasion Mukhi Takandas Kataria came back and occupied the President's seat. I asked my father how he persuaded the great man, because of whose resignation the Panchayat was totally in doldrums. My father told me. "I heard his arguments for more than half an hour, during that time period I kept quiet. In the end he asked me, what was my view. I told him, no Bhagnari has given you the right to resign. He smiled and my father brought him back to Panchayat Hall.
My father was strongly connected with Arya Samaj and Bhagat Singh's party. He was against Congress but he was always silent about his political careers. He was government contractor for Toddy shop business. He could read and write Sindhi, Hindi and Gujarati and read English and Arabic. Since he was in Arya Samaj he had to be well versed with religion. He had Bible, Quran and Gita in his office. All these books were kept respectfully as they should be. Now little story about his connection with Shaheed Bhagat Singh's party. Once he made an eminent person from the party stay in hiding in our garden. He stayed there for some time, but one day he disappeared. Next day his photo was published in Sindhi paper and he was arrested in Hyderabad Sindh. Only me, my sister Saraswati and he had seen this man in the garden. He called me and my sister and told us, "If you tell anybody about this person, I will be put behind bars." We kept quiet. In my father's family the eldest brother was Rijumal, then my father, followed Bibi Vishin Kaur (Maiya), Hiranand and Krishna.