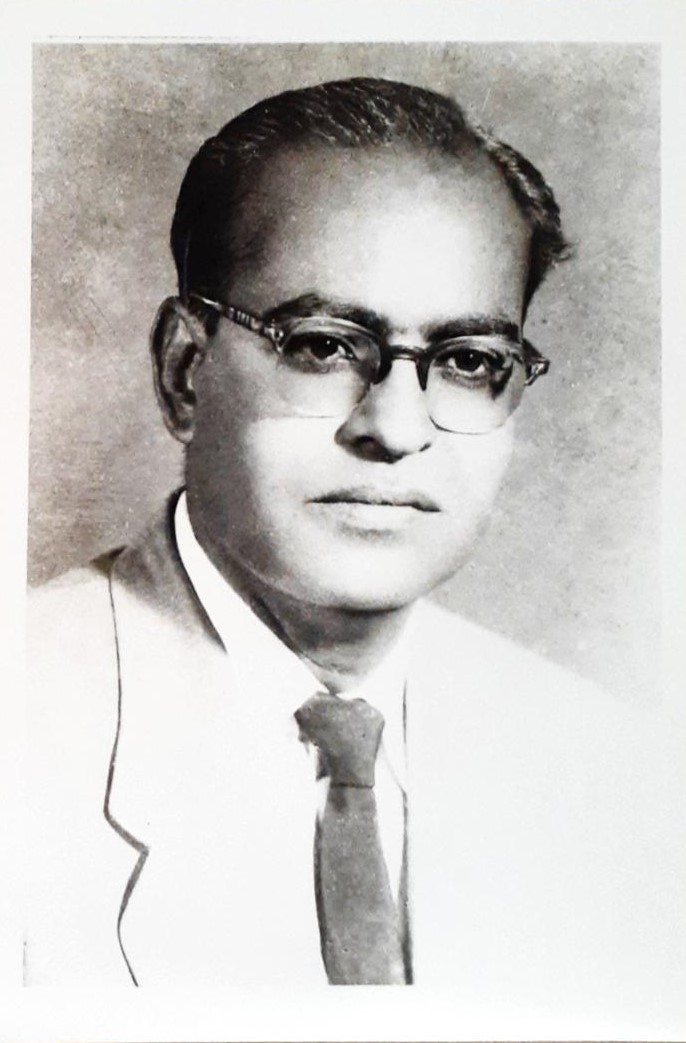 It was early dawn (Prabhat Vela) on Rishi Panchami day, that our father Shri Isardas Motumal Kanar attained eternal bliss. Legend has it that the doors of heaven are open to souls that ascend the heavens on this auspicious day during the Ganapati festival. Shri Isardas Kanar was born in Karachi on 21st March 1915. The family consisted of parents, six sons (including Dada) and three sisters.
From his early days at the young age of 12 years, Dada (as we affectionately called him) had to carry the financial burdens of his family on his frail shoulders to keep the kitchen fires burning. My chachas Tahilram and Kishin had joined the freedom movement and were busy most of the time. Hence dada performed in the local band (playing the Clarinet), distributed newspapers and ran errands. His father Shri Motumal Kanar was an educated man and owned a printing press which was all but destroyed during the World War. Inspite of all the difficulties, he fought on and spent the day working on the typewriter he had managed to retrieve. He often typed legal documents for people and hence came to be known as the "petitioner". Dada was the first Bhagnari to become a Civil Engineer. He passed out from NADIRSHAW EDULJEE DINSHAW CIVIL ENGINEERING COLLEGE, KARACHI. I have clicked a picture of his Degree which is featured with this article. This was in the year 1936. Dada then took up a job with Karachi Municipal Corporation. Among the many jobs that Dada did, the one that stood out was his work on the INDUS VALLEY PROJECT. Dada used to tell us how he used to walk for miles to reach the site and back home. His elder brother Tirathdas bought him a Bicycle worth Rs. 12/- but unfortunately it got stolen the very next day! It was a tough job. Another Project that Dada spoke about was the Sukkur Barrage Scheme where he encountered the most perilous trail of forests and mountains. Dada shared a host of memories about scorpions and snakes at the site. He would recall with horror how one of his helpers was carried away by a wild animal as he slept outside the tent!
Dada started teaching in Night School and it was under his guidance that the first batch of Bhagnari boys passed their Matric, most of them like the Jham brothers were all Dada's friends. That was the reason that Dada came to be addressed as MASTER. After partition when the whole family came to Bombay, they spent a few days in the open ground in Sion where Sion Hospital stands today. Mummy told me how they were scared, as things got stolen. So, they used to make a barricade with their trunks and the ladies slept in the center. The men used to go house hunting every day. Finally, Dada found one room in Rehmat Manzil at Mahim. This building is at the signal where you take a turn from L. J. Road to go to Canossa School. There were three other families with them – Parsram (Ghia Uncle), his brother Chiman and Kishin Kataria. After settling the family Dada joined the Bombay Municipal Corporation. He was posted to Sholapur. Dada was worried about leaving his family behind in a new place, so he wanted to give up the job.
After a year or so, Mr. Naraindas Mehta asked Dada "why don't you start working on your own?" But Dada said he didn't know anyone here, who would give him work? Mr. Naraindas Mehta offered Dada his first job at MEHTA MANSION at Sitladevi. Every time I pass by this building, I feel proud to say that after nearly 65 years the building still stands solid and strong. Then followed Sweet Home, in which Mehta family occupied the first floor, then Bhaveshwar Nivas, in which we shifted to a 2 room flat and many other buildings in Mogul Lane. Dada had a drawing board at home, and I remember him working till late night, preparing drawings. He was all in one – the Draughtsman, the Architect, the Supervisor. He then decided to rent an office in Mohatta Market for Rs. 50/- a month. As this sum was too much for Dada, he asked Mr. Kishin Kataria to share the office with him. Dada designed many buildings prominent among them were Vimla Mahal at Pedder road. I must mention here that students who were studying Architecture were brought to this building to show them how it was constructed on a Hill in 3 levels. Then there is Ajoomal Mansion, Delstar, Deluxe Apartments at Altamount road for Mr. Shankar B. C. (film distributor), Sukhmani at J. B. Petit Road (Dada's favourite). His most significant project was the Kataria Colony at Shivaji Park, the details of which we have mentioned later.
My brother Sunder joined Dada after completing his B. E. Civil Engineering. Chandu Chhada also joined Dada and during that period they designed several buildings in Bandra and Juhu. Sunder used to tell me that those days they had so much work that they used to get tired by the end of the day. We also specialized in designing Industrial buildings. An entire area in Saki Naka has been developed by I. M. KANAR & CO., including a Studio for Manoj Kumar. It was a tribute to his excellence that some of these buildings found a place in the finest architectural magazines like Japan Architect and Indian Builder.
Our father was an ideal family man as only a person belonging to the Old Guard could be. He stood by his mother, brothers and sister and provided unflinching support without ever mentioning it. The metaphysical poet John Donne has used a beautiful metaphor to describe his relationship with his wife. He says they were like a pair of compasses – she, the steady and dependable arm that stood fixed at the center and he, the moving arm that did not waver when completing a perfect circle, only because of the fixed center. Our parents' long partnership of 64 years cannot be described in a better way. Mummy always stood by Dada through all the vagaries of life, managing the home finances, children's education and all the nitty gritty of everyday existence with perfection and resolution. As for his children, Dada had a unique equation with each one of them. Sunder his first born, was naturally dear to him. Where his duty to his parents was concerned, Sunder was the perfect son. In the autumn of his life there was a kind of role reversal. Dada became a child so as to say and Sunder took over the family reins. Ramoon remembers him for the long conversations they had each time he came home from College in Baroda, from Dubai and Kuwait. Shaku was his wise and most efficient child. Dada was always proud of Bharati's academic achievements and discussed almost anything under the sun with her. As for me after Graduation I did my Secretarial course from Davar's Institute and joined Dada's office. As for my Bhabis – Anuradha, he found her to be dignified, well mannered, efficient and a perfect mother to her children, Sushma, who came to our family late in the day as a "Balika-badhu" was the apple of his eye. He found her, together with Rachna, to be the most intelligent of his children. He was all praise for her calligraphy. As for my parents' bond with their daughters in law, a striking incident comes to our mind. Whilst we waited for Ramoon and Sushma to arrive from Dubai for the last rites of Dada, our mother convinced Anuradha to go to the colony hall and perform her duties towards the annual Ganesh festival as Shri Naraindas Talreja had put her in complete charge of the occasion. My Bhabi, with a heavy heart, obeyed and performed the Aarti, as she felt that Dada too would have wanted her to do so. Each of his grandchildren remember the time spent with him. Babloo always remembers Dada standing in the balcony whenever he came home on a visit from USA. He says that even now he looks up at the balcony and knows that someone is there watching and blessing him. All of them remember the bonding with Dada during Sunday lunches of mutton, khatti dal, rice and chapattis which were made by their Naani/Daadi. Dada had a special bond with his sons -in- laws. His happiness on seeing them at innumerable weekend gatherings at our home was to be seen to be believed! The feeling was mutual between him and Chandu and Sunder. Its because the feeling of love and respect was equal on both sides. I had never ever seen Dada speak about anything personal with both of them. All the more reason why they looked up to him with love and admiration!
Topmost among the memories we have of Dada is the one where he was elected twice as the President (Mukhi Saheb) of our Bhagnari Community. He was President of the community from 1980 to 1992. During his tenure we saw a side of Dad's character that we had not seen before. He always stood up for his principles and upheld the beliefs that were morally right even if he stood alone for them. Very often his beliefs carried the day!! Among the many reforms that he encouraged, was one which deserves special mention. With an initiative of the young Prakash Gehani, a function was organised to conduct mass thread ceremonies in Vanita Samaj Hall, so that community members could cut out wasteful expenditure and those who could not afford to spend more were able to participate in this joyous occasion.
Finally, last but not the least. Dada had a creative side to him, which not many know of. Dada used to play the harmonium with his nimble artistic fingers. I have inherited this talent from him. It was from him that we learnt what taal and raag meant, what Thumri, Dadra, etc. meant. We still recall the beautiful environment at home when almost every night the lights were dimmed, and we listened to classical Indian music. Such were the wonderful years that we spent with our beloved Dada.
Kataria Colony
When We Bhagnaris came to India as refugees most of us settled in Bombay. But we were as scattered as the leaves of a tree. Shri Takandas Kataria, our beloved President 'had a dream' – to unite our people once again into a community that would face the difficulties of resettlement and all life's experiences in a place which was like the "Old Bhagnari Para" that we had left behind in Karachi. Shri T. H. Kataria who lived with his family in Mahalaxmi shared his vision of a united community with Shri Isardas Kanar, and thus was born the Kataria Nivas and the Kataria Colony at Shivaji Park. Kataria Nivas and A building were constructed first. Then Shri Kataria purchased the adjoining plot also. This plot had small homes, which were vacated by the people residing there, with the help of Shri Harkishindas Gehani, by way of compensation.
Building E was constructed first as some families like Shri Vishindas Mehta and his brother had lost their homes due to the collapse of their building in Mahim. Hence the Mehtas, our grandmother and Ram Maharaj were the first occupants in this building. Buildings B, C, D, F, G and H were constructed immediately thereafter.
Lots were drawn for all the buyers, but since Dada refused to take his fees from Panchayat, Shri Kataria gave him the liberty to choose his flat. Dada chose D-56, and that is where we live today. I must mention here that Dada never ever took fees for any of the buildings, such as Dharamshala, which he designed for Mr. Khubchand in Hardwar or a temple or a Gurudwara like Sachkhand Darbar in Sion, Sai Jairamdas Samadhi Mandir in Chembur or even the Yoga Institute at Santacruz. Work at the Yoga Institute still goes on. Sunder helped them install a lift recently. When the President of India, had come to the Institute, they felicitated Sunder, Dr. Jaidev told them that" Sunder has not charged us a penny, not even towards corruption charges!" You can imagine the laughter that followed!!
So, our little TOWNSHIP was complete – we have a Temple, a Ration Shop and above all our precious Hall. Our Hall which has the significance of a temple, years of religious activity, havans, bhajans, pravachans by saints, has acquired an aura of a temple. We Bhagnaris revere the place and never enter the Hall with slippers/shoes and no non-veg food is ever served on its sacred premises. Hence we consider Kataria Colony a symbol of our oneness and moral strength. To the Kanar family, Kataria Colony shall always remind us of Dada's tribute to our community.
Thanks to our elders Shri T. H. Kataria, Shri Isardas Kanar, Shri Harkishindas Gehani and many other elders that Shri Kataria's dream was realized. Today we can proudly say – "WE BHAGNARIS, LONG LIVE BHAGNARIS"!