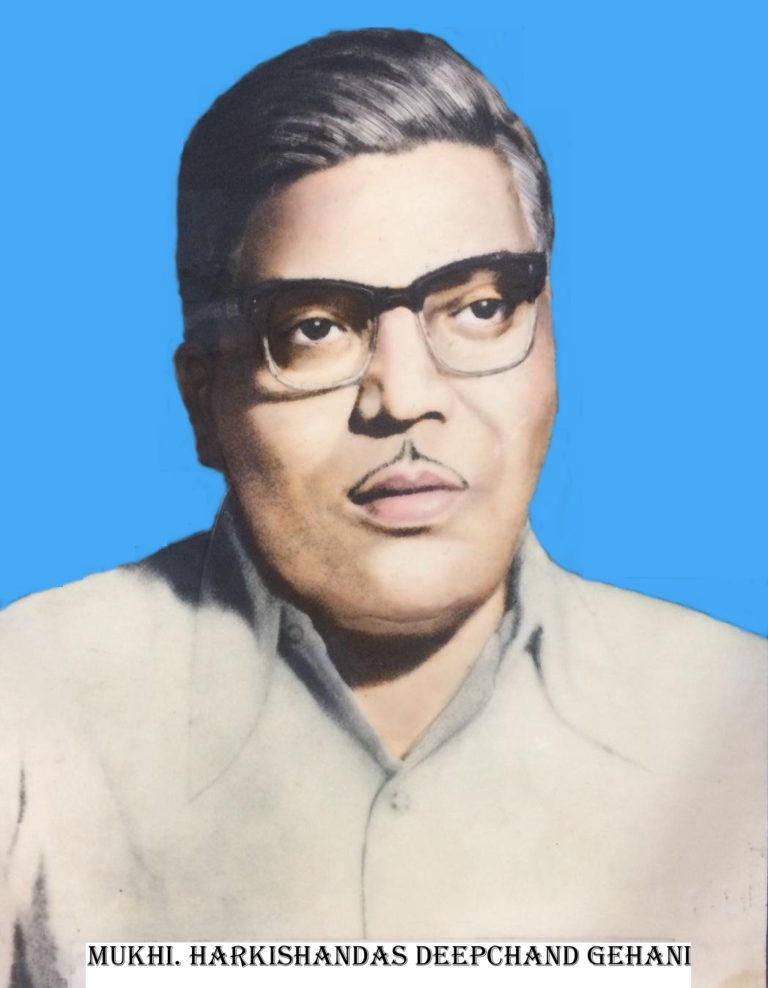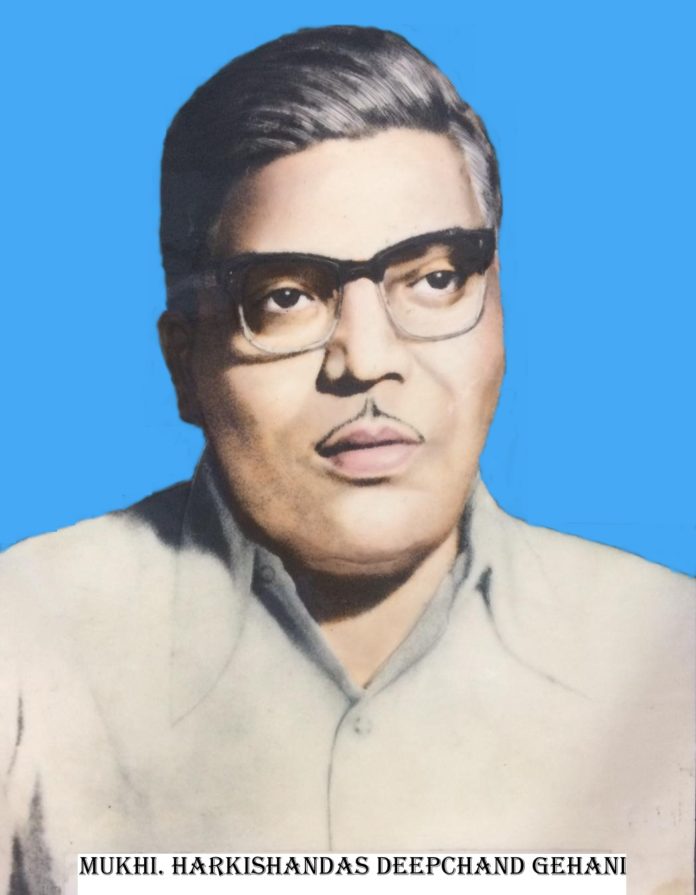 1948 -1951
Shri Harkishindas D Gehani was born to Deepchand Asandas and Kimatbai Gehani on 28.10.1915 in Karachi. Late (Prof) Shri Hargobindas was his younger brother.
After completing matriculation, he acquired a diploma in Accountancy and Business Law from London Chambers of Commerce (LCC), now LCCI.
Married to Smt. Prabhavatii (Bato), the family consists of Sarvashri Niranjan, Indu, Kamla, Manik, Prakash and Sunita. He lost his father at a very young age.
He was employed at Ganesh Khopra Mill and was looking after accounts of the firm initially. His dedication and talent were recognised and appreciated by the partners of Ganesh Khopra Mill. He grew with the firm and he was handling bigger assignments which made him a coveted employee. He couldn't be held back, as he never had static ideas. This quality was utilised by his employers and they threw challenges at him to bail out a loss-making venture in Bombay which they owned. This time something extraordinary was to be achieved by him. A man with infinite capacity and capabilities, he zeroed all his energy to resolve a challenging target and accepted every hurdle and toiled to conquer the win. This act earned him respect and recognition. The loss-making unit was turned around and became one of the Jewels in the kitty of Balani and Israni families. As a reward for achieving extraordinary feat, Balani and Israni offered partnership to Shri Harkishindas D Gehani.
In the later years the unit was expanded and shifted to Saki Naka in Mumbai, which was under the charge of Shree Niranjan H Gehani.
1951 – 1968
Mukhi Late Shri Harkshindas Deepachand Gehani
Shri Harkishindas was son-in-law of Late Mukhi Shri Takandas Kataria. He was inducted in the Panchayat activities by him from his early years. On migration to Bombay, our community winnowed to Mahim, Kings Circle Camp, Sion Camp, Kurla, Chembur Camp, Kopri in Thane, Kalyan, Ulhasnagar and Bombay Central.
As Late Shri Takandas H Kataria had many larger issues to look after, the charge of running the Panchayat was given to Shri Harkishidas D Gehani and his team. They were being guided by Shri Takandas H Kataria from time to time. Many urgent and serious matters relating to Bhagnari community had to be resolved in shortest possible time. The blank was so large that it demanded "today's work to be finished yesterday."
Fortunately, the records of Shree Bhagnari Panchayat had the details of it's members. All of our people were identified and were kept in constant contact. The needy were provided with financial help from time to time. With timeless engagements the knots were eased and the dust settled by 1951.
New Challenges
Kataria Colony was conceptualised in 1950. The first building was marked as "A" building. "A" was the lone standing building and despite being the only one, it was marked as "A". This indicates that our leaders already had a plan chalked out to grow further to weave our brothers in the project from A to H and make another Bhagnari Pada in Mumbai. The dream was fulfilled when the foundation stone of B to E buildings was laid by Mukhi Shri Takandas Kartaria in 1959.
This time again the Panchayat members selected Shri Harkishindas D Gehani to be in charge of the project. The man with fire in his belly created a history of completing the buildings in 30 months.
Removal of encroachment of the bootleggers from the plot and development of our society in record time, makes one feel as if they are watching a live movie. These achievements would not have been possible without active support of all Bhaganaris.
By this time many of our scattered Bhagnaris came back to a new Bhagnari Pada – KATARIA COLONY.
YATRA – PILGRIMAGE
To taste the waters, a 500 km/s trial yatra to Pandharpur was planned by road. This trip was undertaken to give an idea as to how a longer journey can be endeavoured by our senior family elders. The Pandharpur experiment exposed many shortcomings. The learning from it readied the team with all precautions which were accounted for and a long return trip from Bombay to Haridwar and Badrinath by bus from Kataria Colony was planned.
The Yatris were from every Bhagnari family. The involvement was so universal that departure turned into a festival of happiness. I have never witnessed the amount of enthusiasm generated on any celebration as on the commencement of the Yatra of Haridwar and Badrinath. The 3 weeks long trip concluded. The excitement to see the satiated Yatris back home was an emotional bonanza. Reaching back with satiated expressions, each and every Yatri had only words of praise for Mukhi Harkishindas and his team.
Our family cherishes the blessings endowed by Bhagnaris, due to the efforts of Mukhi Shri Harkishindas
Bhagnari Co-operative Society Limited, Chunabhatti
Several Bhagnari families were still unsettled and something had to be done for them – they needed decent homes. The requirement was computed and a plan to house deserving Bhagnaris was prepared.
A plot at Chunabhatti was acquired, where 2 buildings were erected. One of them was a commercial project and second was reserved for Bhagnaris. They were given flats on subsidised rate and the profit from the high-rise building was used as the subsidy. The society is in existence and is registered as Bhagnari CHS Ltd.
Deolali Sanitorium
The sanatorium at Deolali was one of his pet projects which made our people enjoy outings in our own place.
LEGACY
His sincerity and devotion gave him growth in life and he received whatever a human being aspires during his lifetime. More than receiving, he gave back to the society whatever he had in him.
His health took away all his energies, though the will to do something was still alive. He desired to be of use to the society.
On 16.10.1983 he was admitted to National Hospital (Now Hinduja Hospital's old building). The family rushed to the hospital. We saw him in the ward where he was being examined by his doctor, After the doctor left he called us closer and placed his palm of perpetual blessings on our heads to say that it is a matter of only 5 days.
On 21rd October 1983 (Friday) at 7.30 A.M we lost him forever. This was the fifth day. The oracle of gold was gone from our life and we all felt abandoned. But while leaving he left particles of gold in all of us for eternity.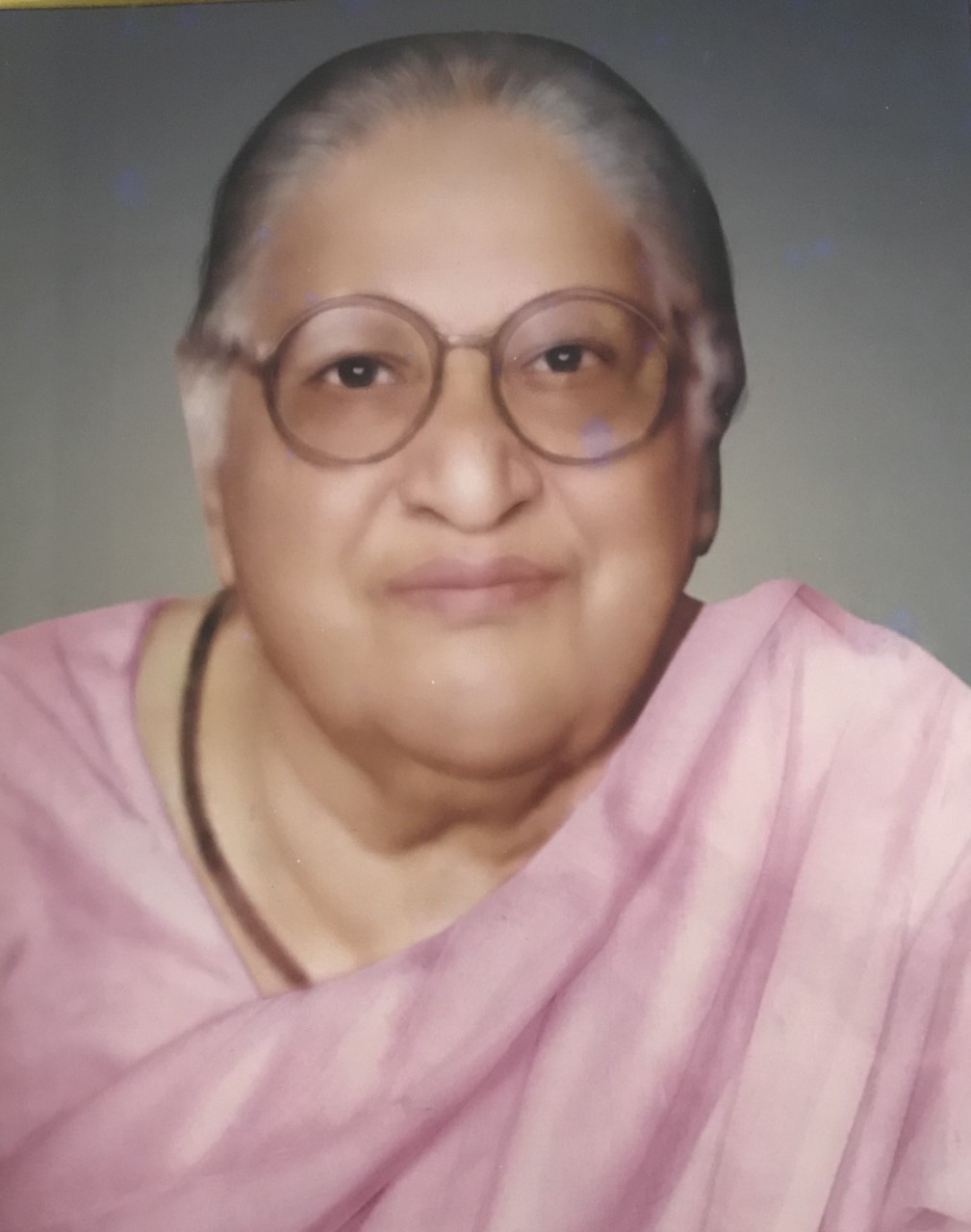 Our Mother Late Smt Prabhavati (Bato)
Prabhavati Harkishindas Gehani – these three words mean life to our family. Without our mother, our father Harkishindas wouldn't have achieved the heights. Her role was to make him feel confident that he had lioness at home to take care of her kids. The lion conquered for us, our comfortable future with her devotion.
She was the first lady driver in our community. Independent, fierce and protective of her family – we always had a lovely and safe abode with her loving care. All of us were raised by her and our family stands united due to the thoughtful efforts of our mother. She kept us connected to our maternal uncles and their families and we mingled regularly with them on all festivals.
Thadri was the festival where Shri Takandas's entire family with daughters, son-in-laws and children would meet and spend a whole day as "agtaa".Same efforts were put in to preserve the oneness and to mingle with our paternal uncle's family and their daughters. These pleasant family meetings can never be forgotten. These small and tiny memories of happy events, keep the families together and the love and affection are nurtured for eternity.
Our mother took care of our emotional upbringing and inculcated several values in us. The nourishment of the body and mind of all her children was her prime concern.
Mother – Mannu Ayee – Goddess for us.